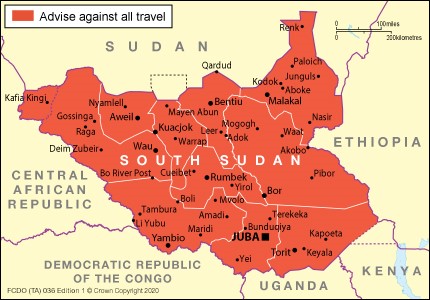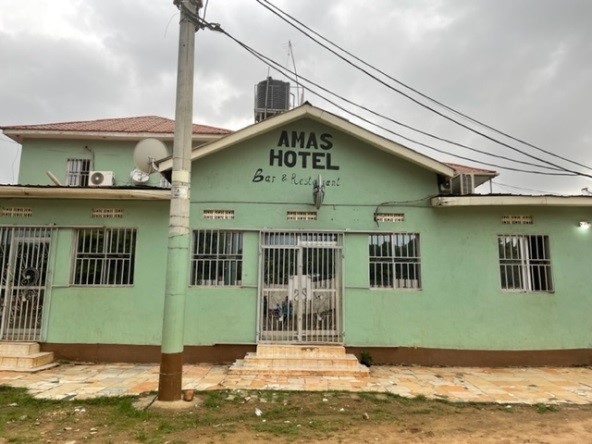 I recall interviewing David Gasana via Skype at our Supporters' Day in September 2019 about the work that we were doing/going to do in Burundi and South Sudan. The projects for both of these countries were in the very early stages of being put together and, at that time, it was unlikely that we would be taking a team to either of these countries as they were pretty unstable. I distinctly remember saying to David that I would love to go to South Sudan when it was possible to do so. Then Covid kicked in … However, you can imagine my delight when I received a telephone call in May this year, asking if I was still interested in going to South Sudan! Are you kidding? Of course I was. Callum and I travelled from Rwanda in the early hours of 12th July 2022. Our flights took us to Juba via Nairobi and we arrived early afternoon when we were picked up in a car and taken to the Amas hotel where we would spend the next 3 nights.
I was totally unprepared for what I experienced in Juba during the next few days. Having visited Rwanda, DRC and Burundi on a number of occasions, I thought I knew what I was going to see. How wrong I was!! The level of poverty was astounding and this, combined with the extremely high cost of foods, made me realise how dependent the 50 kids were on receiving support from the sponsors at Comfort South Sudan. The photo on the right was taken from the balcony of the hotel. At first I thought it was a refugee camp but was advised that it was 'normal housing' for those who have little or no money. A number of families live together with a torn tarpaulin as a roof. When we were there it rained very heavily on a number of occasions. I dread to think what the living conditions were like!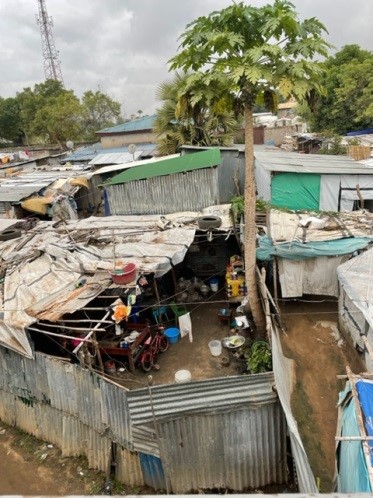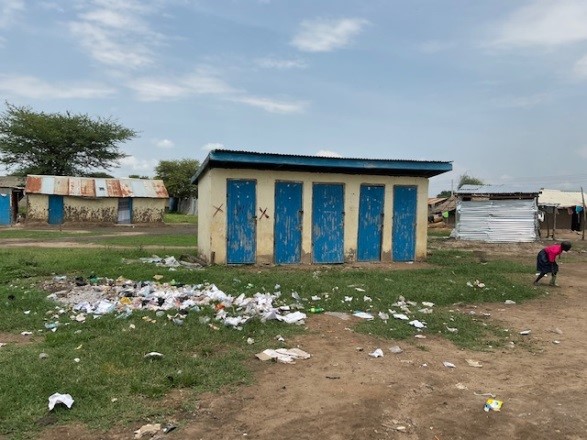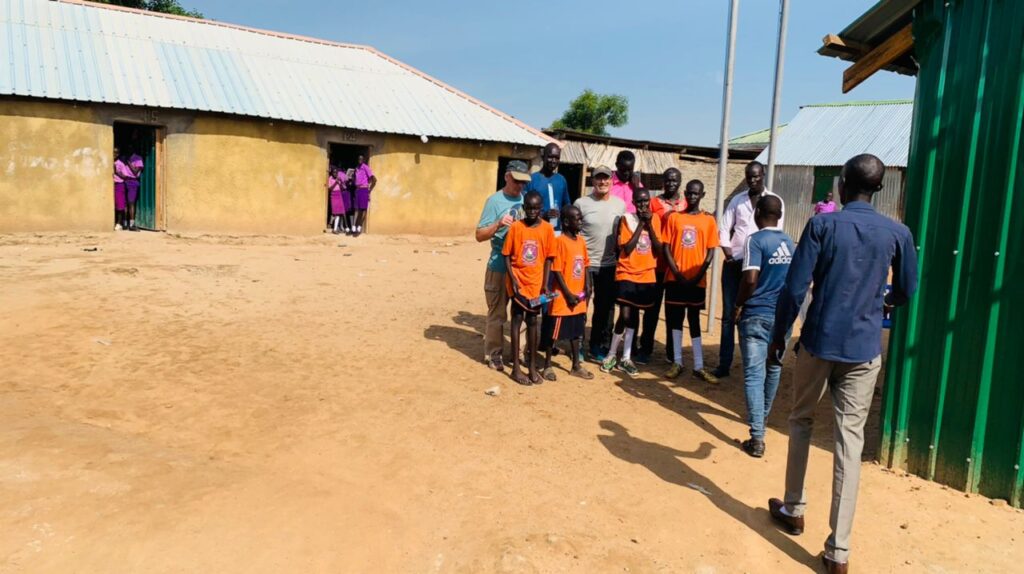 We visited three of the schools that the kids attend. This highlighted the high cost of education, not only in terms of actual schooling but the additional cost of uniforms, books etc. The majority of parents/guardians have little or no spare money with which they can even consider sending a child to school. We discovered that the current sponsorship of £25 per month per child doesn't even cover the cost of education. Depending on the school, fees can be in the region of £160 per year with the cost of registration and uniform adding another £40 per year. Some of the schools provide a basic lunchtime meal which can add an additional £40 per year. If the family cannot afford this, the child very often needs to travel home at lunchtime (this can often be a 30 minute walk – or longer – each way), assuming of course that there is food to eat at home. In addition, the pupils must provide their own toilet paper (this is mandatory), reams of paper and pens/pencils. When all of this is added up, the total cost is often more than the annual sponsorship cost of £300. What we learned from talking to the kids later in the trip was that they were exceedingly thankful to their sponsors for allowing them to attend school. The team in South Sudan are presently in talks with the schools to try and negotiate a reduction in costs for the children who are being sponsored. They are looking at the possibility of us bringing in funds with which to build a toilet block for example or a perimeter fence that would stop the cows straying on to their land.
The other major cost is food. While we were in South Sudan we went shopping with some of the team. The shop that we visited had all its shelves packed with food and other household goods so although there is plenty of food available, the main problem is that the majority of people have little money. We heard on a regular basis that accessing food is a constant worry and the recent price increases have made it even harder. A lack of food can often result in poor physical health and we noticed that a few of the children appeared to be displaying symptoms of malnutrition.  We purchased large quantities of dried goods (rice, posho flour (maize) and beans) as well as small bags of salt bottles of vegetable oil and boxes of bars of laundry soap.  
The dried goods were put into bags each weighing 7 kilos and the oil was decanted into plastic water bottles.  The goods were put in the back of a truck and brought to the place where everyone was gathered, primarily so we could meet with each of the 50 children who are being sponsored and information taken to put into their reports to the sponsors.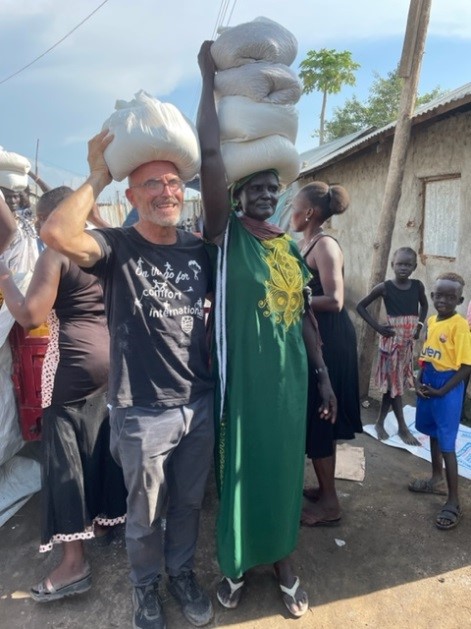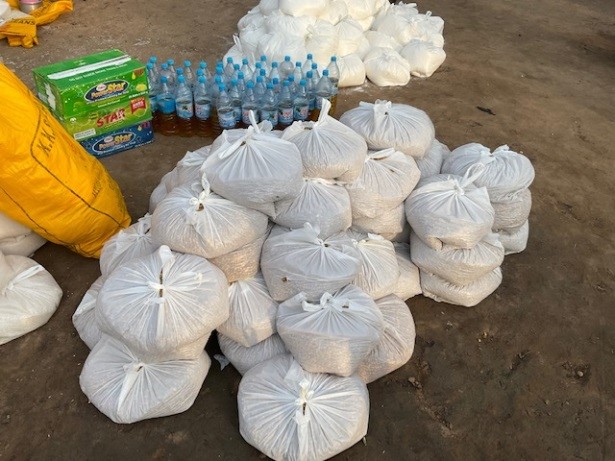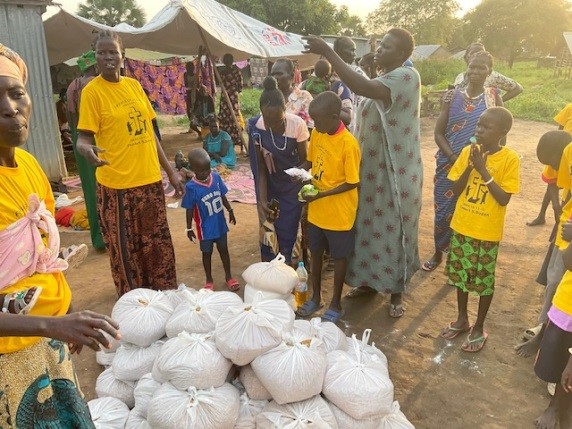 Each of the sponsored children/child's family was given 7kg of rice, 7kg of posho flour (maize), 7kg of beans, a 500g bag of salt and some cooking oil. In addition, they were also given a 600g bar of laundry soap. I watched a couple of mothers taking in the smell of the laundry bars as if it were a special luxury. We spent around £1150 which meant that the average cost per child was around £23 each. The food is given out around every two months and therefore adds around £200 costs per child.
A major part of the day was spent speaking to all of the kids who were there and putting together the information that would become part of their report to their sponsors. We also had the privilege and pleasure of handing out letters from their sponsors. What we learned was that many of the children struggled to understand the concept of someone from a different country/continent supporting them to attend school and everything else that is afforded through the project. They were delighted to receive the letters etc. and hearing what their sponsor had to say to them although it was obvious that they struggled to understand what our lives involve and how they are significantly different from their lives. Despite this, it was clearly evident that they felt valued by the smiles on their faces.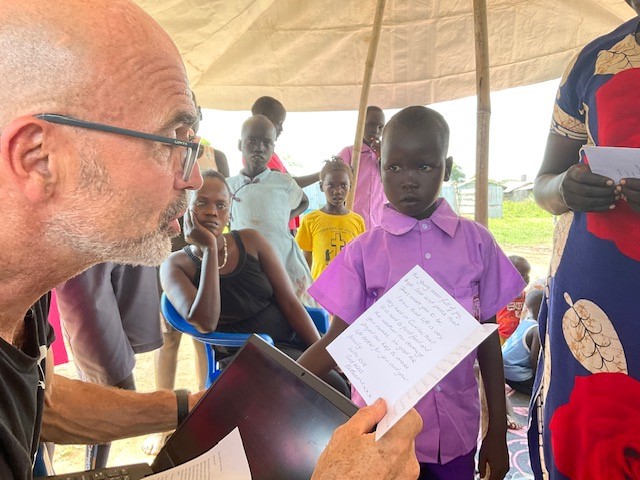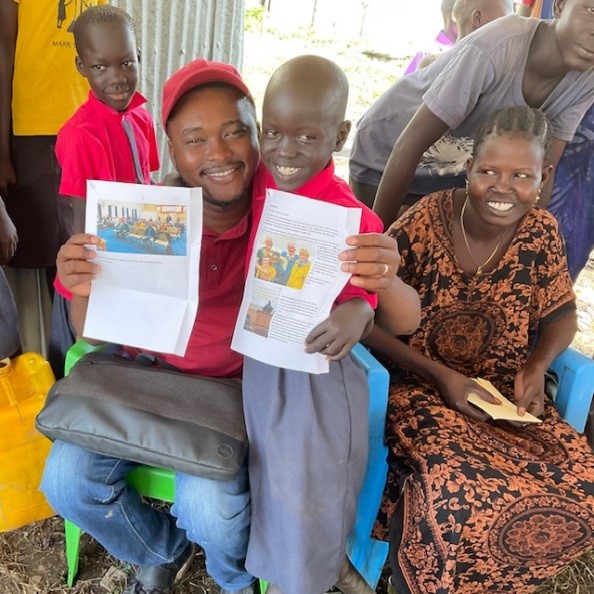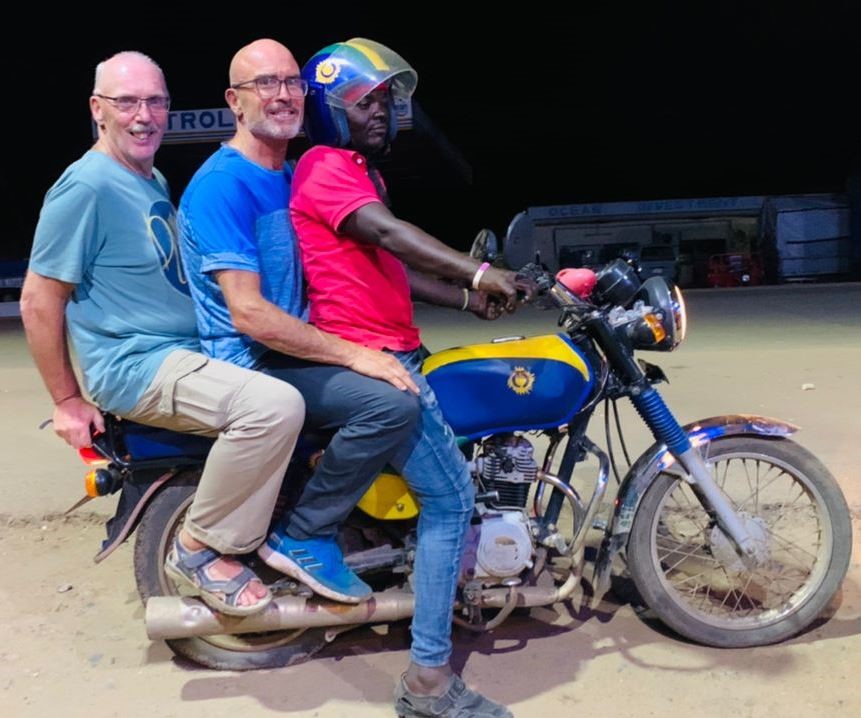 All in all it was a wonderful time and I can't wait to go back. Some of the kids even stated that being visited by Callum and me was a very happy experience for them!!  It was a privilege and a pleasure to meet the Comfort South Sudan team, ably supported by David Gasana.  Zacharie, (the guy riding the moto on the left) is the Treasurer and the others are Jacqueline, Mama Queen/Jennifer, Mary and Angela.  They would all very much appreciate your prayers. The project could not function without them.
a little can change a life