"We partner with a number of in-country partners which are detailed below"
Africa Hope Initiatives (AHI) is the development project wing of Harvest Christian Church in Rwanda. AHI also has a partner support organisation based in the USA which can be viewed at https://www.africahopeinitiatives.org/ . AHI is run by Rugabire Theophile, whom we met as part of the Rwandan board for the Comfort International Ministry School, our pastors' training work. Having been introduced to the Solidarity Groups supporting vulnerable women, especially those recovering from prostitution, we were impressed by the vision and passion to see the women flourish and signed a memorandum of understanding in 2021 to work together.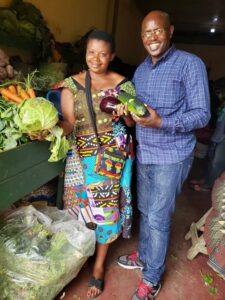 This photo shows Theophile with one of the women at her business
Shortly after the genocide Jean Gakwandi began to minister to survivors in trauma after the events of 1994. In 1996 Jean and the team established Solace Ministries (https://www.solaceministries.org/) based on the call "Comfort, Comfort my people (Isaiah 40:1).
The vision was initially to comfort widows and orphan survivors of the genocide against Tutsi people of 1994 and was later extended to other hurting people such as victims of HIV/AIDS. Solace was one of our first partners and we continue to work with them in the support of genocide survivors.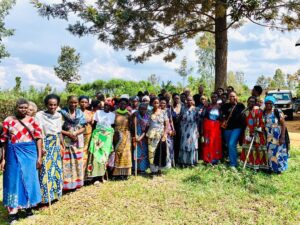 This photo shows a Solace genocide survivors' community
Our Street Kids Rescue work in Burundi is run by a grassroots team which comes under the name Comfort Burundi but is overseen by Comfort Rwanda. Hakizimana Claude heads up the Comfort Burundi team with support coming from 'core teams' at the two project sites – mainly composed of mothers of children on the project who help organise and administer the project activities.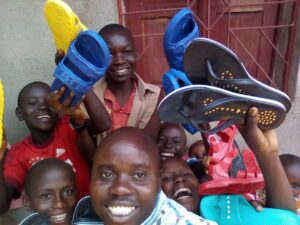 Claude with project children
In 2015 we were asked to help a group of street children at Batsinda, Kigali. A graduate, David Gasana, of our street children's project with The Living Church was on hand to oversee the project and other Street Kids Rescue projects followed along with support for vulnerable mums and babies. Comfort Rwanda was asked to register under a different name to avoid confusion with comfort International so is registered as 'Building Better Nation' in Rwanda. The organisation is based in Gatenga, Kigali.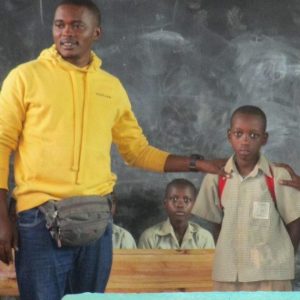 Comfort Rwanda director David Gasana with project school child
As with Comfort Burundi, Comfort South Sudan is a grassroots group operating the child support project in South Sudan under the umbrella of Comfort Rwanda. The leadership is largely made up of local women plus Zacharie the team translator and project worker. The operating context of Comfort South Sudan is exceptionally challenging as the country struggles against severe poverty, instability, a broken infrastructure and corruption.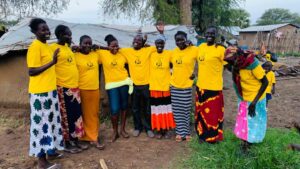 The Comfort South Sudan team
In around 2006 we met Dieudonné Karahanyuze Mugongo who was attending Comfort International church leadership training in Kigali, Rwanda. Dieudonné knew of the training through his work in healing and reconciliation with the US based Pilgrim Center for Reconciliation which had links with our Rwandan partners. After a visit to DR Congo in 2008 which revealed the extent of the suffering and the depth of the challenges facing people in DRC we began to work with Dieudonné and a team there which led to the registration of Comfort Congo as a partner organisation in 2012. Since that time we have worked closely and tirelessly with them to address the many needs caused by conflict, displacement and poverty in the area around Goma, North Kivu.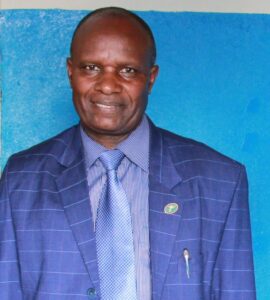 Comfort Congo director, Dieudonné Mugongo Karahanyuze
Life Edifying Ministries Africa
Gerard Rukerandanga is an Elim Churches pastor in Ngozi who was instrumental in gathering church leaders across many denominations and organising the CIMS training in Burundi. Subsequent to that he began to help local Batwa people displaced from the forests and struggling to adjust and to develop. This led to our Batwa project and Gerard is responsible for local oversight of both CIMS and Batwa projects.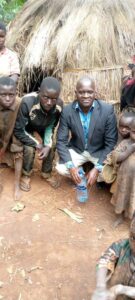 After meeting CIMS teachers in Rwanda, Wejuli Fred from Busia, Uganda, requested Comfort International to help with leadership training in Eastern Uganda. Fred developed a broad group of interested churches and registered this as Life Edifying Ministries Africa (LEMA) which now runs the programme of CIMS teaching at Busia and a local street kids rescue project.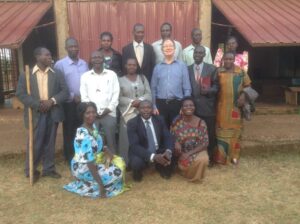 LEMA team with Wejuli Fred fourth from left in white shirt
Along with Solace Ministries, The Living Church was one of our first two partners in Rwanda. Initial partnership was in church leadership training, but projects with street children and vocational training of vulnerable youth followed. The Living Church (also known as Eglise Vivante) is a well established church group based in Burundi and Rwanda (https://www.vivanteministries.com/eglise-vivante).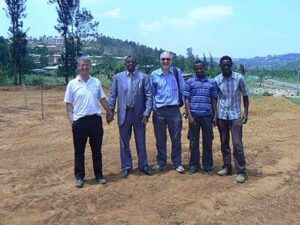 Ndahigwa Paul, pastor of The Living Church, second from left on the site of the Ihumure Technical and Vocation Training and Education School
In 2011 Ben Kayumba, whom we had known for 11 years through his previous work with genocide survivors, founded Good News International (GNI) , an organisation dedicated to the support of such survivors. GNI has also developed a vision for the young generation of Rwanda and its mission is 'To promote the social welfare of Rwandans particularly orphans, widows, youth and other vulnerable people. GNI also runs a guest house which we use as our base in Rwanda whilst on visits.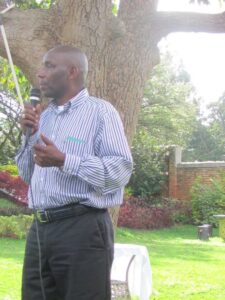 Ben Kayumba, director of GNI